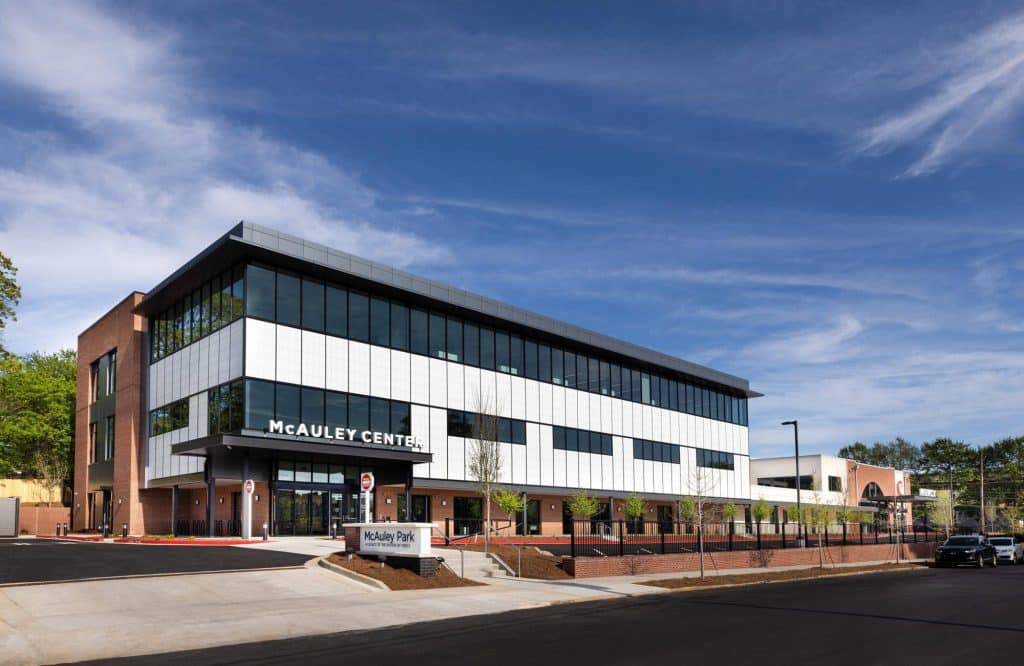 Donec id elit non mi porta gravida at eget metus. Vivamus sagittis lacus vel augue laoreet rutrum faucibus dolor auctor. Cras mattis consectetur purus sit amet fermentum. Nullam id dolor id nibh ultricies vehicula ut id elit. Donec id elit non mi porta gravida at eget metus.
Constructed adjacent to the original two-story building in Atlanta's Sweet Auburn district, McAuley Center houses administration and physician offices and a street-level resource center for human resources and volunteer services. The new, three-story facility connects to the original Clinic via a daylit internal bridge, a covered exterior colonnade, and an entry canopy.
By relocating office uses to McAuley Center, the Clinic's capacity was doubled with two new medical hubs, additional dentists' chairs, and a larger waiting room. Through a rolling, phased renovation, which allowed the facility to remain open throughout its multi-year construction, spatial relationships were reorganized, the internal flow was streamlined, and building systems were modernized.
Site work included reconfiguring parking and circulation, new streetscapes, and improved pedestrian access from King Memorial MARTA station. Affordable multi-family and senior housing are planned for adjacent sites.